Past Festivals


Click on Images for Larger View

HARVEST MOON BREW FEST 2015
Saturday September 12, 2015
Butler Building | Aitkin, Minnesota
The Glacial Lakes Brewers and Minnesota Craft Breweries join together to share their distinctive craft beers and ciders
Breweries
Surly Brewing Company - Minneapolis, MN
Jack Pine Brewery - Baxter, MN
Big Axe Brewing Company - Nisswa, MN
Sociable Cider Werks - Minneapolis, MN
Brainerd Lakes Beer – Brainerd, MN
Schell's Brewery - New Ulm, MN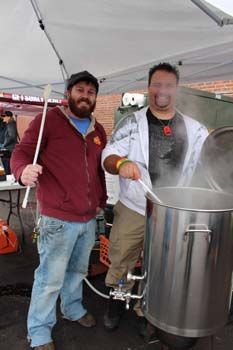 Live Home Brewing Demo with Jeff Sather and Dake Olson
____________________

Live Music with Pickin' Pete Gansen and Don Gervais





Food Vendors

Log Home Wood Fired Pizza - McGregor, MN

Contact us if you would like to participate as a Brewery, Vendor, Volunteer, Sponsor or Advertiser
Send email to Ross@GlacialLakesBrewers.org

Thank you to our Sponsors
2014 Harvest Moon Brew Fest

2014 Harvest Moon Brew Fest Photos
A number of local Minnesota home brewers joining together to share their distinctive craft brews with fellow Minnesotans at the Harvest Moon Brew Fest, which was held at Aitkin's historic Butler Building on Saturday, Sept. 13 from 3 to 7 p.m.
Glacial Lakes Brewers is a group of home brewers and beer enthusiasts. The group served up their home brews at the HMBF. They are; Mark Jacobs, Glacial Lakes Brewers' de facto president from McGregor, offering samplings of his distinct Belgian beers including a Belgian Saison Ale, Belgian Dubbel Ale and Belgian Trippel Ale. Courtemanche with his various brown and pale ales and stouts; which includes his "Ungulate Slaver" American Brown Ale; "Glacial Lakes English Pale Ale"; and his chocolate milk stout, "Run Away Galloway"; and Rich D. Hillard from Garrison, providing tastings of his "Agassiz Pale Ale". Other home brewers from the area include DJ Thompson with his Pike's Peak Pale Ale; and Terry Neff offering up his Munich and Canadian lagers and Whiskey Barrel Stout. Also, Dake Olson will be pouring his German Kölsch Style Ale at the Home Brew Demonstration Tent assisted by Jeff Sather. Finally, Dan Haasken with his Red Ale.
The festival gave attendees the chance to try myriad samplings from specialty Minnesota and Regional craft beers, including the Jack Pine Brewery, Surly Brewing Company, Third Street Brewhouse, New Belgium Brewing Company, Bell's Brewing, and Finnegans, a nonprofit brewer that gives back 100-percent of its profits to Minnesota charities.
There were local food vendors at the festival, including Log Home Wood Fired Pizza, offering up its popular crisp thin crust wood fired pizza creations. In addition, food will also be available from The Beanery, a popular café located inside the Butler Building.
There will also be live entertainment provided by a number of musical artists, including Pickin' Pete and his unique campfire songs and assorted Iowegian banjo music; in addition to handmade crafts for sale from several local Minnesota crafters.
Sponsors of this special event included Bernick's Beverages, Aitkin Independent Age and Bargain Hunter, Culligan Water, Paulbeck's County Market and Ruttger's Bay Lake Lodge.